This site uses cookies. By continuing to use this site, you are agreeing to our use of cookies.

Learn More.
Brigand's Haven
Back2Warcraft's video:
Hive Workshop's article:
https://www.hiveworkshop.com/threads/state-of-the-union-warcraft-iii.293726/
- Battle.net 2.0 intergration on its way. Host bots and spam bots don't work on BNet 2.0, but user hosting and finding games is easy on 2.0.
- Both melee and modding / custom games have been looked at and are both priorities for being improved
- Warcraft III: Remastered is undoubtedly the most likely scenario for the future of Warcraft
- If it does get remastered, the original game should be available for free, meaning anyone can get it online and play on battle.net (2.0)
- Public Test Realm (PTR) for testing patches before they are released to come in June
- Blizzard is working very closely with the community, with a team headed by Hive with close cooperation with Back2Warcraft. Blizzard devs read and publicly post on the battle.net forums and Hive forums. They have also been linked feedback from other...
Suggest new events to take place within the Siege of Lordaeron City.

Eventual events include the arrival of the Alliance army from Quel'thalas.
Hello All

For the Poll

Just a quick poll to see what people want LTF to be. Ik it was suppose to be a design of LTA good vs evil but for me its far more than a typical 6v6. For me LTF is actually a 3v3v3v3 with a lot strategical thinking. Best thing i love about LTF is actual second chances and the important of choosing your paths. Tell me what u think u want LTF to be? Just a 6v6 or much more

For the Thread
Just wanted make a discussion thread to ignite the LTF forums again. If you have ever played into late game without a team having heavy advantages, you have probably realized how flawed alliances late game is.

Basically as alliance here is how it goes late game: Sit in a capital city base with a strong choke-point (usually dalara) and be basiclly immortal as no one can push out again 3 men bunkered in or they will so send immense number of units that the feed will be so high that it will win u the game especially as there is no XP loss for grouping with allies in LTF. Or...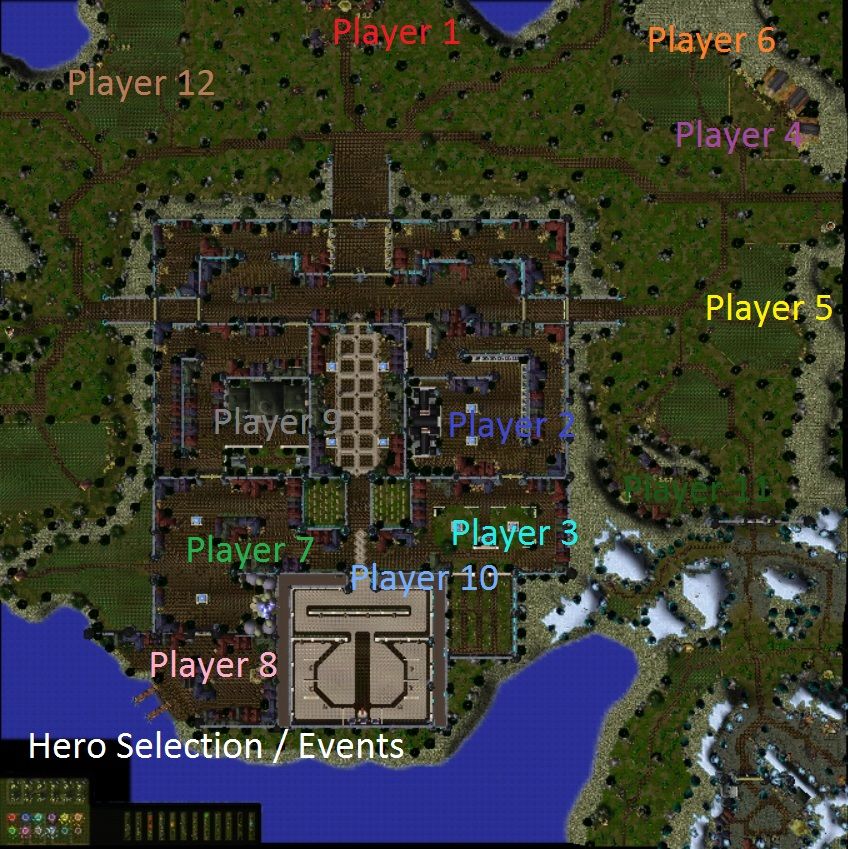 The Siege of Lordaeron City is map about the Orcish Horde's battle against the last vestiges of Alliance resistance at the Capital City of the Kingdom of Lordaeron. There are two teams of 6 players each, who are:

Orcish Horde
Player 1 (Red) – Blackrock Clan
Player 4 (Purple) – Thunderlord Clan
Player 5 (Yellow) – Kingdom of Alterac
Player 6 (Orange) – Bleeding Hollow
Player 11 (Dark Green) – Teron Gorefiend
Player 12 (Brown) – Black Tooth Grin Clan

Alliance of Lordaeron
Player 2 (Blue) – Kingdom of Lordaeron
Player 3 (Teal) – Kingdom of Stromgarde
Player 7 (Green) – Kingdom of Dalaran
Player 8 (Pink) – Kingdom of Kul'Tiras
Player 9 (Gray) – Kingdom of Azeroth
Player 10 (Light Blue) -- Kingdom of Alterac-Resistance

Map Overview:


At the beginning of the map, each player can select a single hero from a lineup of heroes. Each new hero offers a different set of skills and provides additional units to the spawn. Every few minutes a new hero can be selected until a maximum of 4 heroes...
Please post discussion about the changelogs here.