This site uses cookies. By continuing to use this site, you are agreeing to our use of cookies.

Learn More.
Brigand's Haven
Recent Threads

There will be a clan game hosted on
Sunday, 5th of April.
Host time:
18:00 CET
;
Game name:
PD clan game
This time it will be 4v4 (Humans vs Alliens)
Races:
HUMAN CORPORATIONS:
- Vidovit
- Meerzan2
- Enclop
- Mr.Sascha6767
ALIEN SPECIES:
- Cynicaldoubt
- SilentShadows
-
-
RESERVES
- TheVynylRaider
​
Last updated 29/07/2016


BLOOD ELF

​
SUMMARY:Blood Elves have the most diverse game, since they have the most paths and can be allies with anyone except Dragonmaw. Their game can be incredibly easy or incredibly hard as they have one of the most sought after items in the game - Aneeva's Essence, and by extension, the Sunwell. You may need help from your allies just to hold on, so don't be afraid to ask for aid - otherwise you can turn to darker paths to keep your magical hunger at bay. Choose your allies wisely as the Blood Elves.
General:
Every 20 seconds - 1 minute, a random (non elite/hero/worker) elf will turn into Wretched when not near a Power Generator.
Halduron Brightwing is unrevivable until Silvermoon (Capital building) isnt under your control (and must be alive also).
Can purchase Sunreaver Post (+ Sunreaver Enclave if you are in Alliance and Purple...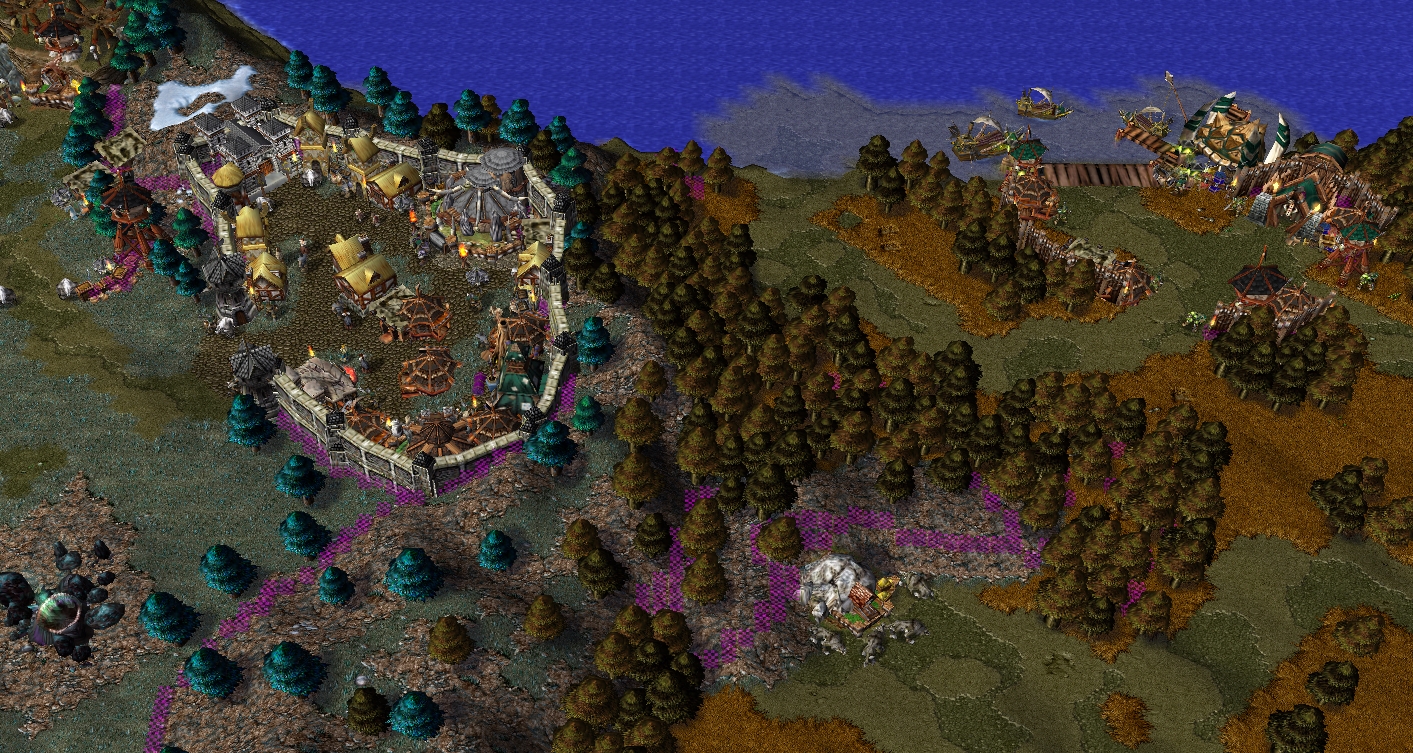 Hey people. After some reterraining in Eastfall I have come up with the idea to create a passage from the orc homelands to The Ire, over the hills by Eastire. The passage should connect the two lands right below Eastire, over the hills, and up to the forested path to the left of Lo'karkashun as seen above.

The question is: Should I refrain from doing this? What would the balance consequenses be? Give me your thoughts!
​
Thread is outdated; needs to be updated with the 1.27 release.
​


Due to the problem of overpowered spells and hero squads this thread will be modified and filled with polls about useful and non useful spells on heroes/demis/elites.
There also needs to be an increase of unrevivable heroes; in the late game revivable heroes become a nuisance and prologue the game a lot.
All feedback is welcome, i am importing personal opinion first, and may be wrong so please correct! If somebody does a hero like listed, and the community agrees with it, i will upload it to the main topic.
note: red = overpowered, gray = underpowered, orange = need more opinions
​
Blood Elves - Alliance/Horde
​
Kael'Thas
-
Flame Strike
- Damage is fine; cool down is too short -...
Hello everyone!
The Time has come for another MotM votation! Prepare your fingers to type in the person you would like to become the new Member of the Month APRIL!
The voting will end on 4.4.2015
Rules!
1. You may NOT vote for the last Member of the Month
2. You should elaborate why you are giving this vote
3. You may vote only once
4. You may NOT vote for yourself
5. You must be a Brigand in order to vote
Have fun!
-The Senate